Senior Pastor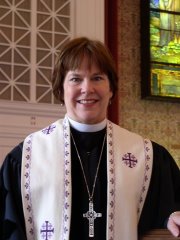 Reverend Dr. Carol Ann Fleming began her ministry at Church of Christ Uniting January 9, 2005 as the designated senior pastor of the church. A divine worship service took place at 10:15am at the church, which is the merger of The Kingston Presbyterian and the Kingston United Methodist churches.Pastor Fleming most recently served as a Presbyterian pastor at a church in Springfield, Ohio, and has served Presbyterian churches in East Greenwich, N.Y.; Poultney, Vt.; Salem, N.Y.; and Syracuse, N.Y. She has been active in mission organizations, chairing the Justice, Action and Mercy coalition of 16 congregations in Springfield and working with Habitat for Humanity and the Interfaith Hospitality Network. She has also served on the pastoral care staff at Mercy Hospital in Springfield and on many committees in the presbytery.
Fleming graduated from Princeton Theological Seminary with a Master of divinity degree and earned a Doctor of ministry degree at Columbia Seminary in Decatur, Ga. She holds a Bachelor of Arts degree from Hood College in Frederick, Md., and a Master's degree in public administration from Syracuse University's Maxwell School of Business.
Pastor Fleming is married to the Rev. Scott Loomer, also a Presbyterian minister. The couple have three children: two daughters Alexandra and Charis and a son Garrett, all three children are teachers.
E-mail:  revcarolann@aol.com
Extension: 202
Minister of Pastoral Care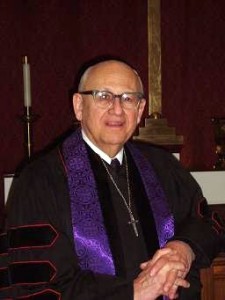 Reverend Dr. James L. Harring has been on the staff of Church of Christ Uniting since October 9, 1997 serving as Minister of Pastoral Care to all of our homebound members. Dr. Harring began his ministry as a senior in college when he was called upon through a shortage of pastors in the Evangelical United Brethren Church to serve as a student pastor in Allentown, PA for two years.
Following graduation from seminary and ordination he was assigned to Albright United Methodist Church, Wilkes-Barre where during his 30 years as pastor two congregations were united into one parish and a new church edifice and educational unit was constructed. During his pastorale there Dr. Harring also served as Senior Protestant Chaplain of the Veterans Administration Medical Center for 37 years.
Dr. Harring is a native of Mount Carmel, PA where he graduated from high school in 1946. He holds a Bachelor of Science Degree in Social Science and Psychology from Albright College, a Master of Divinity degree from United Theological Seminary, Dayton, OH and a Doctorate of Ministry Degree from Drew University, Madison, NJ.
Pastor Harring married Doris Mae Schucker on April 10th, 1952 and they have two daughters, Carol, living at home and Cathy, the wife of Richard Hannis and mother of two sons, Steven and Eric. Dr. Harring visits the homebound members of our congregation in their residences, nursing homes, and retirement facilities each month and invites anyone who desires his visits to call the church office at 288-8434 at any time.
Extension: 206
Administrative Staff
Director of Christian Education: Amy Williams amy@cocu4u.org
Administrative Coordinator: June Gavenonis cocu@cocu4u.org
Treasurer: Kay Evans
Assistant Treasurer: Leslie Bullock
Bookkeeper: Florence Price  bookkeeper@cocu4u.org
Nursery Attendant: Christine Evans
Courier Editor: Curt Schwarzwalder TheCourier@cocu4u.org
Sexton: William Ellsworth bill@cocu4u.org
Website/Facebook Administrator: Jeff Boerger jeff@cocu4u.org